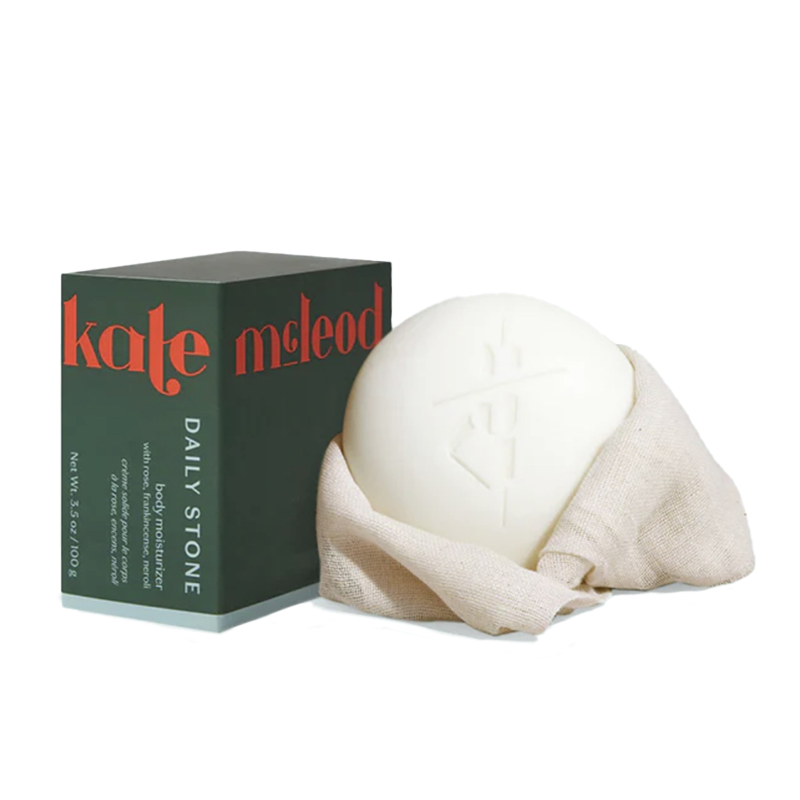 Daily Stone Lotion Bar Starter Kit
Each Body Stone starts with a core formula of cocoa butter and four nourishing base oils: sweet almond, apricot kernel, avocado, and fractionated coconut. That's literally it. From there, Kate adds pure essential oils that provide benefits for both body and mind. The Daily Stone has a subtle floral blend of rose, frankincense, and neroli. Body Stones soften on contact with warm, dry skin. Gliding on like silk, they melt and absorb, leaving skin soft, supple, and glowing. No sticky rubbing or tugging! The Stone provides a welcome moment of self care in even the busiest of lifestyles. It's everyday magic.
*Pricing is from the time of original publication on Oscea.com
- Recyclable, reusable and plastic-free
- Made with safe ingredients™ not known or suspected to harm human health, animals, or ecosystems
- Cruelty-Free
- By removing water from their formulas, Kate McLeod is able to create sustainable, plastic-free packaging, reduce their carbon footprint, and avoid some of the biggest culprits of waste in the beauty industry
- All outer paper packaging is FSC certified and can be placed in mixed recycling
- 100% cotton wrap can be upcycled as a reusable makeup wipe or composted
- Climate Neutral Certified

Our team carefully analyzes and selects everything we recommend using our standards as a guide when vetting what is best for our bodies, our planet, and our collective consciousness. Things you buy through our links may earn Oscea a commission. All prices are accurate and items in stock as of time of publication.